Dear Patriots, No one tells us when we are winning. The left wants to portray us as losers and all alone and that they have the majority support. So, we must seek out our own wins. On Friday, we had a win. 1- Wow. How bad must the polls have been, how unrelenting was the push […]

Dear Patriots, We continue to ferret out the good because for the most part the Fake News does not report good news.  This week we found a lot of good news! 1- This is the news we get. Not the news we need. (Newsbusters)  Networks Skip Parents Suing AG for 'Terrorism' Smear, NBC Rails Against Anti-CRT Law […]

Dear Patriots, We hope that you had a nice weekend and totally ignored the news.  Never fear. At Defending the Republic, we work around the clock. We are working tirelessly, all over the country, to defend people caught between freedom and the Biden administration. Some of us watch the news to provide you with real information […]

Dear Patriots, We could go on and on, and on, about all of things that are going sideways in the world. And we do inform you of those matters each week. But, on Friday, we are determined to find the GOOD NEWS and celebrate with you our collective small and big victories. ### 1- If you […]

Dear Patriots, As time passes, we are seeing more confirmation of the massive and multiple ways of cheating in the November 2020 election. For months now, anyone who raised this issue has had the left heap derision and scorn upon them.  However, we are seeing that the truth does eventually make it's way to the top. […]

Dear Patriots, For more months than we care to calculate, we have been constantly assaulted with one leftist crisis/event after another. From the BLM riots right up to the unconstitutional Biden vaccine mandates, we have been deluged with shocking incremental attempts to ruin this country. Many compare it to the old analogy of "boiling a frog". […]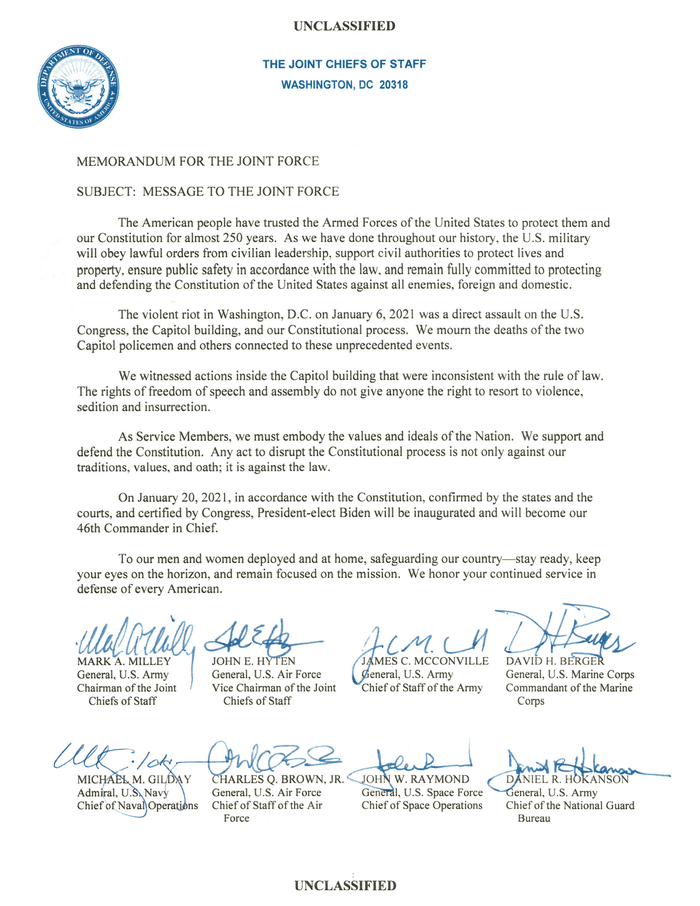 I will say this: based on the memorandum put forth by this group of traitors. They state that what took place in DC was a violation of our Constitution, however, THEY have allowed the most egregious violation in the history of our Country to take place and done NOTHING.
By allowing election interference which involved treason at the highest levels of our government, working along side foreign countries, to change the outcome of an election – OUR election – and put forth a government that is not FOR THE PEOPLE, BY THE PEOPLE – THEY have violated their oath to uphold the Constitution of the United States from enemies both foreign and domestic.
Now – IF THAT isn't a violation of our Constitution I don't know what is. It certainly isn't a bunch of Patriots standing up for ourselves in DC against a tyrannical government as that is EXACTLY what our forefathers told us we should do.
Know this, "IF" POTUS allows this and does not take action – WE THE PEOPLE must stand up immediately and take this Country back.
For God and Country.
MilSpec Ops Monkey
First Lady Melania Trump: Our Path Forward
Date 1/11/2021
Like all of you, I have reflected on the past year and how the invisible enemy, Covid-19, swept across our beautiful country. All Nations have experienced the loss of loved ones, economic pain, and the negative impacts of isolation.
As your First Lady, it has been inspiring to witness firsthand what the people of our great Nation will do for one another, especially when we are at our most vulnerable.
With nearly every experience I have had, I found myself carrying many individual's stories home with me in my heart.
Most recently, my heart goes out to: Air Force Veteran, Ashli Babbitt, Benjamin Philips, Kevin Greeson, Roseanne Boyland, and Capitol Police Officers, Brian Sicknick and Howard Liebengood. I pray for their families comfort and strength during this difficult time.
I am disappointed and disheartened with what happened last week. I find it shameful that surrounding these tragic events there has been salacious gossip, unwarranted personal attacks, and false misleading accusations on me – from people who are looking to be relevant and have an agenda. This time is solely about healing our country and its citizens. It should not be used for personal gain.
Our Nation must heal in a civil manner. Make no mistake about it, I absolutely condemn the violence that has occurred on our Nation's Capitol. Violence is never acceptable.
As an American, I am proud of our freedom to express our viewpoints without persecution. It is one of the paramount ideals which America is fundamentally built on. Many have made the ultimate sacrifice to protect that right. With that in mind, I would like to call on the citizens of this country to take a moment, pause, and look at things from all perspectives.
I implore people to stop the violence, never make assumptions based on the color of a person's skin or use differing political ideologies as a basis for aggression and viciousness. We must listen to one another, focus on what unites us, and rise above what divides us.
It is inspiring to see that so many have found a passion and enthusiasm in participating in an election, but we must not allow that passion to turn to violence. Our path forward is to come together, find our commonalities, and be the kind and strong people that I know we are.
Our country's strength and character have revealed themselves in the communities that have been impacted by natural disasters and throughout this terrible pandemic that has affected all of us. The common thread in all of these challenging situations is American's unwavering resolve to help one another. Your compassion has shown the true spirit of our country.
As I said over the summer, it is these defining moments that we will look back and tell our grandchildren that through empathy, strength, and determination, we were able to restore the promise of our future. Each of you are the backbone of this country. You are the people who continue to make the United States of America what it is, and who have the incredible responsibility of preparing our future generations to leave everything better than they found it.
It has been the honor of my lifetime to serve as your First Lady. I want to thank the millions of Americans who supported my husband and me over the past 4 years and shown the incredible impact of the American spirit. I am grateful to you all for letting me serve you on platforms which are dear to me.
Most importantly, I ask for healing, grace, understanding, and peace for our great Nation.
Every day let us remember that we are one Nation under God. God bless you all and God bless the United States of America.
Sincerely,
Melania Trump
FOR IMMEDIATE RELEASEOctober 26, 2021DAILY GUIDANCE FOR THE VICE PRESIDENTFOR TUESDAY, OCTOBER 26At 12:15 PM EDT, the Vice President will have lunch with the President in the Private Dining Room. This lunch is closed press.

President Biden will announce the intent to provide up to $102 million in new initiatives to expand the U.S.-ASEAN Strategic Partnership during the October 26 U.S.-ASEAN Summit, reflecting the Biden-Harris Administration's deep commitment to ASEAN's central role in the U.S. vision for a free and open Indo-Pacific.  U.S.-ASEAN Health Futures:  The United States is committed…

The White House LogoFOR IMMEDIATE RELEASEOctober 26, 2021FACT SHEET:New Initiatives to Expand the U.S.-ASEAN Strategic PartnershipPresident Biden will announce the intent to provide up to $102 million in new initiatives to expand the U.S.-ASEAN Strategic Partnership during the October 26 U.S.-ASEAN Summit, reflecting the Biden-Harris Administration's deep commitment to ASEAN's central role in the U.S. […]

The White House LogoFOR IMMEDIATE RELEASEOctober 25, 2021Readout of President Biden's Meeting with His All-Holiness Ecumenical Patriarch BartholomewPresident Joseph R. Biden, Jr. met today with His All-Holiness Ecumenical Patriarch Bartholomew and congratulated him on thirty years of moral and spiritual leadership as Ecumenical Patriarch. The President expressed relief at the Ecumenical Patriarch's speedy recovery. They […]

President Joseph R. Biden, Jr. met today with His All-Holiness Ecumenical Patriarch Bartholomew and congratulated him on thirty years of moral and spiritual leadership as Ecumenical Patriarch. The President expressed relief at the Ecumenical Patriarch's speedy recovery. They discussed efforts to confront climate change, steps to end the global COVID-19 pandemic, and the importance of…

Facebook Bridge | Main Site was unable to receive or process the remote website's content! Error message: `Call to a member function children() on null` Query string: `action=display&bridge=Facebook&context=User&u=mikepence&media_type=all&limit=-1&format=Json` Version: `dev.2021-04-25` Press Return to check your input parameters Press F5 to retry Check if this issue was already reported on GitHub (give it a thumbs-up) Open […]